Real estate investors are concerned about various things and mortgage rates are one of them. Mortgage rates are Sometimes steady but at other times we see a lot of fluctuations. During 2022, people around the world are experiencing high inflation and that is also affecting the real estate market. Home prices are very high and mortgage rates are also on the rise. People who want to invest in real estate are concerned and ask about the trend of mortgage rates in 2022.
Before we discuss mortgage rates, it is very important to understand the factors which affect them. Mortgage rates are associated with the common rule of supply and demand. Government policies also play a vital role to affect these rates. Other than that credit score, location of the property, loan amount, types of loan, and down payment you are ready to pay also affect mortgage rates. Some indirect factors like geopolitical situations and pandemics also change mortgage rates.
Mortgage rates during the past few years
The Pandemic affected every industry all around the world, but in the real estate industry, its effects were very bad. It stopped the construction and sale of houses and the rental business was also greatly affected. Spring 2020 was very low for the housing market; which is usually the peak season for sales. The situation forced landing agencies to adjust mortgage rates and the lowest rates were seen during that year.
During 2021, mortgage rates were very low and home buyers and investors were very happy. Resultantly, an increase in house sales was observed after the pandemic. Residents of big cities brought new and big houses in suburbs. Affordable housing attracted many first-time home buyers and that was a good sign for the real estate industry.
Mortgage rates this year
Mortgage rates are increasing at a fast pace. Investors have no idea whether this growth will stop somewhere or not. Many property investors are waiting for lower mortgage rates to invest in real estate. Many people want to buy new primary homes while others want to invest in a rental business like Airbnb. However, high mortgage rates are stopping them from investing and they wonder when will be the right time for investment moves.
Mortgage rates can go down, but it is not expected in the near future. According to real estate experts, there are no chances of dropping them in the near future. They were down during the pandemic, when can we expect them to go down again? During the pandemic, they were low to support the economic conditions of the market. Less than 3% Mortgage rates helped the economy to recover. However, they increased dramatically at the beginning of 2022, and now it's almost 5%. So, now they are not expected to go down again unless something very drastic happens.
Choose between financing and cash
Shen mortgage rates are very high and not expected to come down in the next few months, what should be the suitable solution in this situation? Should investors buy in cash or still consider financing to buy real estate? There is no single answer to this question, but it depends on the financial situation of the investor.
If you have enough cash to invest in property and other things will not be affected, consider buying with cash. But make sure you can pay the mortgage without getting into trouble.
During the current situation and elevated mortgage rates, you have to keep an eye on the initial investment against ROI. It may require research and analysis, but it's very important to avoid any unwanted situation. Some online platforms can help with analysis and you can find the best option for you.
If you buy in cash, you can recover your investment easily. All you need is to go for the right investment strategy. You can Sell the house after necessary repairs or can use it as a rental unit to generate a steady cash flow. Airbnb can also be a good option.
Plan some savings first
If you have some cash and you want to invest, you have to give it a second thought. No one wants to waste his hard-earned money. Have some savings first, no matter whether you want to buy in cash or want to apply for a loan. Your emergency funds should be separate from these savings.
If you have no cash but you want to invest in real estate, there are many options available for you. You can choose crowdfunding projects or use the room of your house as an Airbnb rental. These are the things, which you can start without any financial assistance. If you have a stable income source and some emergency savings, you can consider applying for a loan. But make sure you can easily manage your financial situation. Find the interest rates today and the trend of their rise. It will help you to see if a fixed-rate mortgage is suitable for you or not. If you want to flip the property within a year or two, ARM can be a good choice. Analyze market data and keep your financial situation in mind, before taking any decision.
Is refinancing a good choice?
High mortgage rates are forcing homeowners and investors to consider refinancing their properties. For refinancing the credit score must be 720 and they must own 20% of the property. If you fulfill the criteria, you can save a 0.75% mortgage over 30 years. However, if you are eligible, you have to think about it on a long-term basis. If you want to sell the property soon and you have refinanced it, the closing cost can be very high for you. So, before making any decision, think about all the options.
Verdict
No one can predict when mortgage rates will go down again. Investors should be cautious before taking any financing decisions. Plan your moves before you buy in cash or apply for a loan. Use software or an online platform to help you to analyze the market trends. You can easily evaluate the profitability of any property.
If you'd like to talk more about property management, or you need help with Everest Property Management, please contact us at Everest Realty.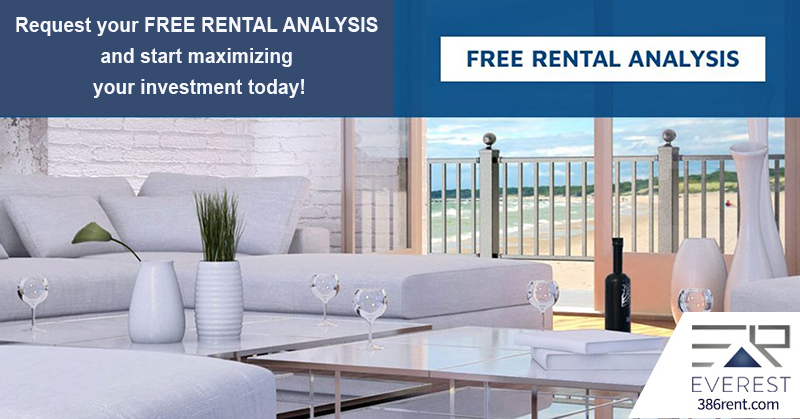 Property Management Service Areas