In case you're an investor, everything can probably be done offline. That's unnecessary, though. You save a lot of time when you use the internet to find short-term rental properties and research them before you make a decision. With the right websites, you can make real estate passive income by saving plenty of time.
Using the best websites can save money on vacation rentals and shorten vacancies. This article explores the top short-term rental sites for real estate investors.
Best Short-Term Rental Websites
In today's business world, information is the key to success. Here are five short-term rental sites you should bookmark.
Airbnb
Real estate investors should use Airbnb to find short-term rental tenants. Because of the huge investments in brand recognition, Airbnb is one of the best websites.
About 150 million people use Airbnb. Airbnb is so popular that most people use it as their primary choice when looking for short-term rentals. This means you can find tenants endlessly by keeping your profile in good standing on the website.
Because of its popularity, the service is intensely competitive among prospective and existing hosts. Due to its worldwide recognition, many other rental owners flock to Airbnb. Over six million listings and four million hosts use the platform, so it's difficult for hosts who haven't been on Airbnb from the beginning to gain reviews and don't own unique rentals.
Hundreds of Airbnb hosts compete for rental properties in top destination cities with significant tourism numbers. Using Airbnb is advantageous because it puts most of the service fees on the tenant, so you'll always have to compete with a couple of rentals, even in cities that aren't top ten. Tenants will pay 14% of the total bill to book a rental, while most hosts only pay 3%. Low service fees are very useful for hosts who must pay taxes and licensing fees on their rental income.
Booking.com
Airbnb may not be able to book all vacation rentals, so you might want to try a couple of other websites. Booking.com is probably the best and most popular. It's a European brand, and while it generated a peak of more than 700 million site visits per month this year, only a fraction of these was from US-based users. However, it can also be a plus.
Because Booking.com is less popular than Airbnb, you might not have as much competition. You'll compete with both rental properties and hotels on Booking.com. Hotel chains and independent owners can make both lists on Booking.com. While attracting an average website user may be difficult, renting an apartment building from a website like Airbnb is not a big deal.
This website's service fee is a bigger issue. There is a 10% to 20% service fee. That's not a great amount to pay for a booking and can consume your rental income. Furthermore, hosts can also be charged a commission for no-show guests. No-shows can be tagged for a short period before the commission is charged.
Expedia
One of the best sites like Airbnb is Expedia.com. Expedia.com has 18 million monthly users and 1.8 million short-term vacation rental listings. Additionally, it is much more popular than Booking.com in the US.
The platform includes rental listings from homeowners and hotels, so there is a bit of competition on the site. Like Booking.com, Expedia also includes rental listings from homeowners.
Expedia also charges a service fee of 10% to 30%, so you either have to charge more or eat up the costs. Again, not the best arrangement. People use the platform to book their entire trip, from the flight to the car rental, so despite the high fees, it makes sense to use the platform. Because of the high traffic, your vacation rental is likely to be booked out.
Vrbo
It stands for vacation rental by the owner and does not include hotels, motels, or other corporate hosts. It is the next best choice if you're looking for a website like Airbnb. There are only short-term vacation rental properties listed on it.
In most cases, guests pay between 6% and 12% in commission on booking the rental, while hosts pay 8% of the entire rental price, including cleaning or pet fees. Airbnb charges much less for booked listings, so it's not the best fee. Either charging more or receiving less from your listing is much better than what Expedia and Booking.com can offer.
You can expect your rental to have a low vacancy rate on Vrbo since it's one of the most popular rental sites in the US, with 15 million trips booked in 2021. In comparison to Airbnb, Vrbo faces relatively little competition, and you're only competing with other rentals, not hotels.
Investment Tips for Short-Term Rentals
You've established the tools of a short-term vacancy rental owner, but how do you use them? Here are four concise but valuable tips for managing short-term rentals.
Location matters
Vacation rental properties are all about location. You should find short-term rentals in the right neighborhood, even if the renovations aren't perfect. Finding a property in a popular tourist destination will do wonders for your bottom line. Before buying a short-term rental, look at the best short-term rental markets, check the vacancy rates, and do a rental estimate.
Optimize Cash on Cash Returns
Despite being crucial to the bottom line, the property's location may be misleading. Choosing the best rental property markets can be tricky. As rental prices rise, demand goes up. When the market is hot and overvalued, you risk achieving a much lower cash-on-cash return.
Before buying vacation rental property, you need to consider its cash-on-cash return estimate. You need to buy one that comes with a moderate price and is located in an area with solid occupancy.
Optimize occupancy rates
When investing in real estate, the biggest money sink is vacant properties, especially short-term vacation rentals. Booking 30% of days in a month means losing money, depending on your loan provider and price per night. It's fine to pay higher fees to short-term rental sites like Expedia or Booking if they reduce vacancy.
Discounts for long-term stays
Even though Airbnb and other short-term rental sites focus on short-term rentals, attracting long-term guests is extremely important. Many people are not willing to book a month-long vacation rental, but they save you a lot of money. Long-term tenants save on cleaning fees and vacancy costs. Offer a generous discount for extended stays and attract them to your rental.
Which short-term rental sites are best?
Managing short-term vacation rentals successfully requires reducing vacancies by any means. This is why you shouldn't limit yourself to running an Airbnb-only operation. You can maximize profit from your rental by listing it on short-term sites like Airbnb.
The VRBO app is great for small-scale landlords. It charges very low fees and focuses on rental listings by owners. In addition, you might like to add Expedia or Booking.com to your toolbox. You need to know that they charge a pretty high fee, however. A website will be invaluable for real estate investors looking to invest in rental properties only. Rental estimates are provided based on millions of listings, helping investors make profitable decisions.
If you'd like to talk more about property management, or you need help with Everest Property Management, please contact us at Everest Realty.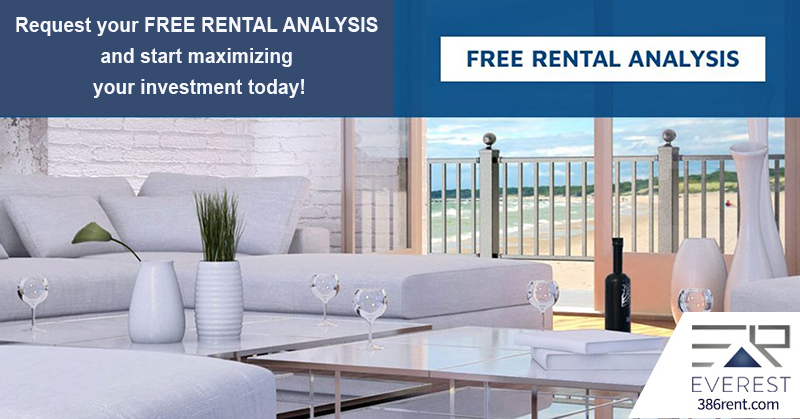 Property Management Service Areas