If you are looking for a profitable investment, the short-term rental can be the best available option. After the pandemic, people are feeling free from pandemic restrictions now. Tourists are taking trips all around the world and tourism is reviving again. This situation has increased the demand for short-term rentals. It is an attractive opportunity for new investors, but they wonder if the trend will continue in the future or not.
Experts predict that short-term rentals will be in high demand in the coming years too. During the lock-down, people have experienced the importance of mental health and how traveling is important for a healthy mind. So, people are ready to spend more money on travel now. So, if you are planning to invest in short-term rentals, try to find a profitable market. Online real estate platforms can help you to find the best options.
Short term rentals
Residential unit which is rented out for a short time, is called a short-term rental. It can be a house, a small apartment, or a single room. These rentals are rented out for a few days, usually less than a month. The duration of rent can be different in different regions, depending on local laws. These units are also called vacation rentals or Airbnb rentals. They are available on home-sharing platforms like Airbnb. It must be clear that they are different from hotels and hostels.
Are short-term rentals profitable?
New investors are not sure if buying a short-term rental is a profitable business or not. The precise answer is yes. People who want to spend a holiday away from home, prefer short-term rentals. These units are cheaper as compared to hotels and offer privacy too. So, tourists prefer them to save their money.
Platforms like Airbnb are very popular these days and that reflects that the short-term rental market is very successful. Another reason for the success is, they are not only for tourists but business travelers also use them to have a good time. However, the profit factor is different in different markets. To have a steady cash flow, you have to consider various factors like location, property cost, related expenses, and demand for rental units.
In most situations, short-term rentals are more profitable as compared to long-term rentals. However, location plays a vital role here. If you have to decide on your rental strategy, conducting a rental analysis can be crucial. It will help you to make a wise decision according to the situation. Short-term rental data is information about investment property and its potential to make a profit for you.
Factors to consider before buying short-term rental
Real estate investment is a good option if you want to generate another income stream. It can help you to beat inflation and it is a good option for long-term investment. Short-term rental is a lucrative business for real estate investors. After the pandemic, the short-term rental business is flourishing again. Rentals are in high demand as more people are traveling for leisure and business. So, in many markets supply is short as compared to demand. However, it varies from market to market. Some markets are not profitable for short-term rentals. These three factors are very important for short-term rental investment.
Select location carefully
Location is very important for real estate investment. Various factors decide the location. Is it suitable for short-term rental business or not? These are mentioned below.
Demand for short-term rental is very important to make a good profit. Online rental platforms can provide this information.

Most short-term rentals are successful because they are close to tourist attractions. Tourists are the major customers of these rentals. So, a location near tourist attractions will be a big plus.

Expensive housing market is not good for short-term rentals. The market, you are planning to target, must be affordable. You can make a better return on your investment.
Know local laws
When it comes to short-term rentals local laws are different in different parts of the world. Short-term rental is illegal in some cities. So, check your local laws before you invest. Some cities don't allow it at all, while others allow it with restrictions. Moreover, if you are buying a condo for a short-term rental business, make sure the association agrees to a short-term rental business.
Check real estate data
It is very important to understand your local real estate market. You need to get data and analyze it before you take any decision. Several tourist places and demand for short-term rental are not enough to make food profit. You need to analyze various other factors too, which are given below.
Cap rate is a very important factor when we consider the profitability of a property.

Next thing is cash on cash return, it's based on your initial cash investment.

Occupancy rate also decides your profit. It is calculated based on the number of days the property was rented and for how many days it was listed.

Cash flow is the money generated and it should be positive. It reflects the money which you earn as profit after deducting all expenses.
Rental calculators are also available online, which can help to find these numbers.
Tips to find a profitable rental property
It's very challenging to find a short-term rental property, which is profitable too. We have some tips for you.
The first thing is to decide your budget and stick to it. You can find some very good properties but they will be expensive for you. Set a realistic budget, including all the costs which are associated with buying a rental home. These expenses may include closing costs, inspection fees, renovation costs, etc.

Market analysis is very important, as mentioned earlier. Average monthly income, occupant rate, and cap rate are important matrices.

Know local rules about short-term rentals and check all legal boundaries.

Use all your sources to find a property. Online sources, newspapers, and listings.
Short-term rental can be a very profitable business if you plan it properly.
If you'd like to talk more about property management, or you need help with Everest Property Management, please contact us at Everest Realty.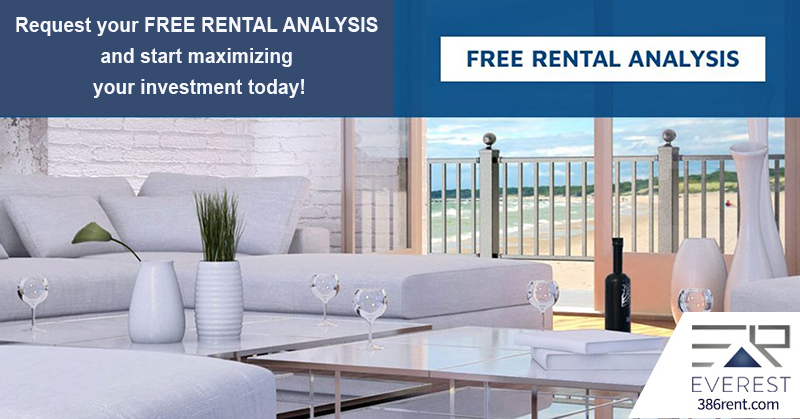 Property Management Service Areas