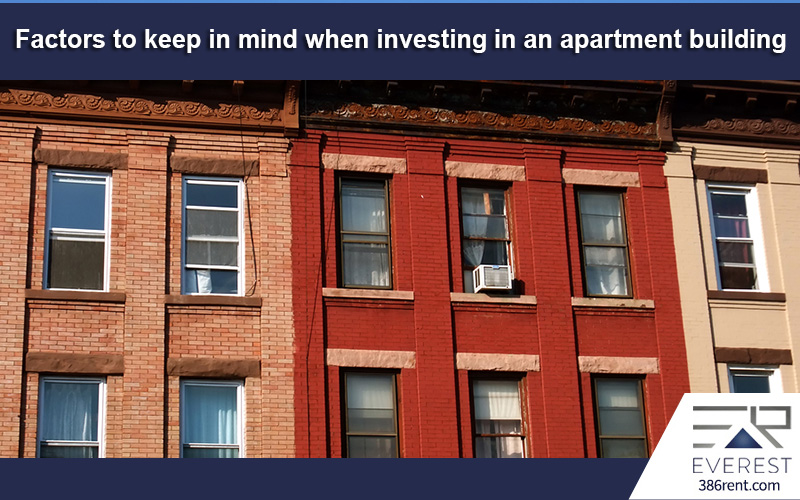 Investing in an apartment building can be a very good decision for an investor. On the one hand he enjoys value appreciation over a period and on the other hand he can earn decent rental income from the property. Here are some important things to keep in mind when investing in an apartment building.
Choose location wisely
As a investor, you will feel tempted with a deal where you can buy the apartment building at much less than its fair market value. However, you need to keep in mind the fact that your objective is to earn rental income. If the location is remote or far away from mass transit facilities, you will find it difficult to attract large numbers of tenants. What use is a cheap rental income property when it remains empty all the time? Also, do not buy a property in a neighborhood with a bad reputation as you can face financial and legal problems created by bad quality tenants.
Management of property and tenants
It is easy to secure finances for the purchase of an apartment building, but it is tougher than you believe to run its affairs. If you do not know how to maintain, market, and solve the problems of tenants, even a great apartment building will start to accrue losses. If you do not have the skills and the experience, it is better to take help of a property management company to look after your property and your tenants. A professionally managed property with all the amenities attracts good quality tenants and you can obtain a positive cash flow from it.
Occupancy rate
You need to be alert and cautious when buy an apartment building. Owner will try to impress you by showing high occupancy rate. Do not be fooled by the high percentage of units that are occupied by tenants. Verify if they are actual tenants or people who have been asked to turn up at the time of showing. In any case, do not buy an apartment building that has an occupancy rate of 50% or lower. You may use best practices, but you will never be able to make it fully occupied because of some inherent flaws. Try to finalize a property that has an occupancy rate of 70% or higher with real tenants.
Poor condition
Many investors are tempted to buy apartment buildings in poor condition as they see them as bargain deals. It is true that you can buy such buildings at much less than their fair market value, but they will require expenditure of massive amount of money to turn them into a rent ready condition. It is better to buy a more expensive apartment building that can be made rent ready with a few cosmetic improvements than buying a building in a poor condition available at very cheap prices.
Find out the reason for selling
It is very important to find out the reason why the owner is selling property. No seller reveals the real reasons behind his decision to sell the property. You need to find out the real reasons why the owner has decided to sell property. There may be financial or family reasons why an owner decides to sell property. Of the owner is really motivated to get rid of property, you can bargain for a lower price. It all depends upon level of motivation and desperation.
Do not fall prey to rehabbed apartments
Many investors indulge in fix and flip to earn profits from their investments. If you come across an apartment building that has been totally rehabbed, it is better to stay away from it as the real objective of the investor is to earn profit through cosmetic improvements. You may have to spend lots of money on repairs after some time on such apartment buildings.
----------------------------------------------------------------------------------------------
If you'd like to talk more about property management, or you need help with Everest Property Management, please contact us at Everest Realty.
Property Management Service Areas
Palm Coast Property Management
Flagler Beach Property Management
Ormond Beach Property Management
St. Augustine Property Management
Daytona Beach Property Management
Port Orange Property Management