Real estate investment is not easy. It requires keen interest and understanding of the market. If you want to become a landlord and start a rental business, you have to plan it wisely. All the interest of the landlords is about the profit they can make on a monthly basis. Landlords have to decide the rent price and that should be fair. However, deciding the rent is not easy as it depends on various factors. Landlords should keep in mind that rent should be affordable for the tenants but at the same time, it must add a decent amount to their monthly income. So, if you wonder how much money you can make with your rental house, we can help you to answer the question.
Things to consider before renting out your house
Landlords consider some important factors before they list the house. We have collected a list of these important factors.
Plan a long-term strategy: Most landlords have an emotional attachment to their homes and usually, they rent out only one rental property. If they don't rent out the property, they don't sell it either just because they are emotionally attached to it. It is very important to plan a long-term strategy for these properties which you rent out, otherwise, they Will not become a steady source of income for you.
Management: Before renting out your property, you need to decide who will handle and manage all the rentals. Some landlords prefer to do it themselves, but if you have another business or job, time management will be difficult for you. Rental management is a time-consuming job and demands commitment and dedication. Hiring a property manager is the better solution in this situation. They can handle all the rental-related work and there will be no burden on you. So, if you have multiple properties for rent and properties are away from your residence, hiring a property manager is the right solution. Property managers have some key responsibilities. For instance, they collect rent from the tenant and pay taxes and mortgages. They inspect properties and fill the vacant ones. Moreover, property managers handle all the contracts and agreements and in case of any dispute, they resolve that in the best possible way. In short, they share a lot of burdens and save you from many troubles.
Laws for landlords: Landlords have to respect laws. Get familiar with the law related to tenant rights, communication, and responsibilities of landlords. Responsibilities of landlords are security deposit, delivering possession, liability, and maintenance. Once he signs the contract, he has to fulfill all these duties.
Ways to calculate the rent of your house
If you want an answer to this question, there are more than one ways to calculate the rent of a house. It is very important to calculate the rent of the house before you list it. Following are some popular ways to do that.
Consider your financial situation: One method to calculate rent is to consider your financial situation. Calculate your expenses like taxes, mortgage, insurance, and other expenses. It will help you to understand your monthly needs and the calculation of rent will be easy. However, the rent calculated this way may be unaffordable for tenants. Moreover, maintenance is also a big expense, depending on the size of the property and its physical condition.

Use comparison method: This method is also known as comp. This is a more realistic and practical way to calculate the rent. The rent calculated this way will be more realistic and according to the market trends. To calculate the rent with this method, you have to go find other houses which you can compare to your house. Consider the factors like size, age of the house, location, and other prominent features. It may be time-consuming for you, but it's an effective way to calculate the rent. Find the comps around you and you can find them online and through listings as well.

Use an online rental property calculator: Nowadays, you can find tools online, which can calculate the rent of the house. These are also called investment property calculators. They help property investors to calculate the potential rent of the house. It is very easy to use these calculators. You have to provide the basic information about the property and the rest is the job of the calculator. It will calculate the price of the property within minutes and also consider the market trends during the process. Using these calculators is simple and quick. It saves a lot of your time and provides accurate results. New investors and experienced ones, everyone can take the advantage of these tools.
Tips to find tenants
Once you have decided on the rent of the house, the next step is to find the tenants. New landlords have no idea how they can Find a suitable tenant for their house. There are different ways to find them.
Ask your contacts: Word of mouth is very important in this regard, particularly in small towns and cities. You can ask your friends and family members if you are renting out your home, they can communicate with their friends and you can find a tenant without any trouble.
Online platforms: Online platforms are available for this purpose. Some websites provide information about rental homes, you can list your property there. However, make sure you use a reliable website, some scams are also working in the industry. Other than websites, social media platforms also do the same job. Some property-related groups share the related information quickly and you can find tenants in no time.
Local listings: It is the traditional method to find a tenant. Prepare an attar five ad for the property, add a detailed description, important features, and some attractive photos to present your home as a desirable residential place. Don't forget to mention contact details and location and address so that people can easily approach you.
This is the basic information about deciding the rent of the house and finding the tenant. Prepare your house and make it attractive for tenants, they will be ready to pay your desired rent.
If you'd like to talk more about property management, or you need help with Everest Property Management, please contact us at Everest Realty.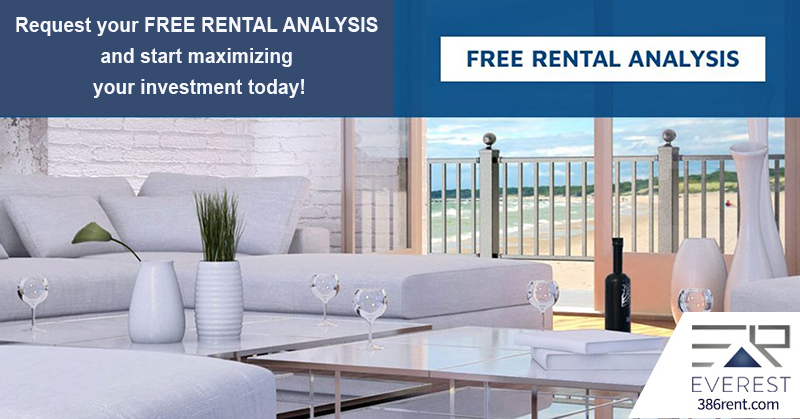 Property Management Service Areas