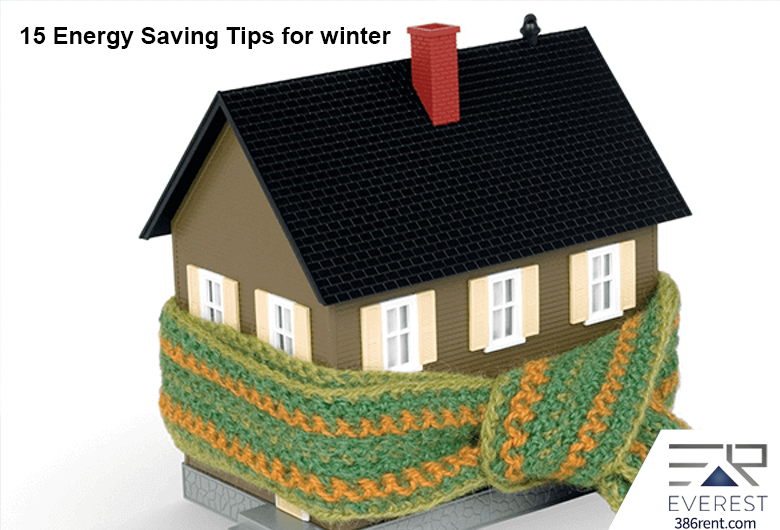 15 Energy Saving Tips for winter for your Rental Property Home in South

Winters in the southern part of the country are milder than the north. Temperatures can still dip below the freezing point. This is the reason why you need to spring into action to prepare your rental home in Palm Coast, Flagler Beach, Ormond Beach and St Augustine to face the sometimes rough weather conditions. This preparation will also help in reducing the energy costs that are spent on heating the home. Here are 15 important tips to prepare your rental home for the upcoming winter season.
Caulking of doors and windows

Windows and doors swell and shrink in summer and winter. This creates gaps that allow air leaks. You need to caulk windows and doors so that there is no air leakage, thereby reducing the cost of heating the home.
Weather stripping doors

If the gaps are large or if they ate formed where caulking is not possible, you can do weather stripping to gill these gaps.
Clean up the gutters

Falling leaves during autumn can accumulate inside the gutter to choke it. If this happens, it could create a lot of mess for your tenants during winter. Make sure to get the debris removed now to prevent clogging of the sewer lines.
Cleaning of clothes dryer vent

Dryer vent, if it has not been cleaned all summer, becomes clogged with lint of clothes. This reduces its efficiency greatly. You must clean the dryer vent thoroughly to reduce energy costs on drying of clothes.

Cleaning/changing of filters of HVAC

Energy costs go up if HVAC filters are not cleaned or replaced every season. Clean the filters to make sure your HVAC operates at optimal level during winter season.
Remove all dirt and dust from windows

Higher energy is required to heat the rooms if the windows have accumulated dirt and dust. Thoroughly clean the window panes so that they allow more of natural sunlight into rooms.

Check basement for air leaks and the presence of rodents

Many times, air leakage takes place through basements and crawl spaces. Check for these air leaks to prevent loss of energy that increases your electricity bills.

Stop leakage of water from faucets and pipes

On the one hand electricity is consumed on making the water hot and on the other hand this water gets wasted because of leaks in pipes, faucets, and sinks. Check for leaks and stop it to reduce energy costs.

Remove hose pipes in the exterior and turn off faucets

With temperatures dipping below freezing point, pipes and hoses in the exterior can easily become damaged. Turn off water supply to faucets in the exteriors and insulate the pipes.
Insulate stairs going to attic

Warm air circulating inside home can be easily pulled by pull down stairs from the attic. Reduce energy costs by insulating this pull down stair.

Keep summer gear inside

All the tools and equipment used during summer season needs to be put away to prevent damage from the elements during winter season.
Fix loose boards in the deck and the porch

Wooden decks swell during summer and shrink during winter creating safety hazards. You need to fix loose bards in the deck with the help of fasteners to prepare it for the coming winter season.

Check ground fault circuit interrupter

It is necessary to test GFCI before the start of winter season. Push the TEST button to see that the circuit breaks.
See that smoke and CO detectors are working

Fire hazards are common during winter season. Check smoke and CO detectors to confirm they are working.
Check circuit breakers
Check the integrity of circuit breakers.
If you'd like to talk more about the value of inspections, or you need help with Everest Property Management, please contact us at Everest Realty.
Our Service Areas
Palm Coast Property Management
Flagler Beach Property Management
Ormond Beach Property Management