AIRBNB is a good business, but you have to work hard for smooth work. For instance, you need to communicate with the guests properly to get your rooms ready before they arrive. It is just an example; you have many responsibilities as a guest. Resultantly, you will be very busy and may not have sufficient time to develop a strategic approach for the development of your business.
If you have effective ways to handle different tasks, being a host will be much easier. Many AIRBNB hosts use technology, and business automation helps them to run it successfully. The use of technology can reduce the time for different tasks and enhance productivity. It can also help to reduce costs and increase indirect profits. Automation software can reduce your workload, and at the same time, they reduce your stress as well. These software are time-saving and can easily handle your daily tasks. Here are some tips which can enhance the efficiency of your AIRBNB business, and your customers will have better management at your place.
Steps to streamline your management as an AIRBNB host
Being a host for AIRBNB is a time taking job. Different software and tools are available, which you can use for everyday operations. They save a lot of your time and offer a better management experience. Here we are discussing how you can use these tools and automate different acts of your rental business.
Automatic communication with guests
A rental business on AIRBNB Is all about effective communication with guests. However, it can be very time-consuming and can take more than 50% of your time daily. The host is souse to answer the booking inquiries promptly and needs to provide all necessary information. Once the booking is complete, you should communicate with them whenever they need you. If they feel that you have treated them properly, they will leave a five-star review, and that is important for the growth of your business.
Busy AIRBNB hosts can take advantage of automating guest communication. They can use rental software and have useful features with respect to communication with guests. They can provide round-the-clock communication services. This software has messaging templates and can easily send messages according to the reset date and time. You can use tools to customize these messages and develop a personalized relationship with guests. These tools can also detect commonly asked questions and automatically send personalized responses.
Automation can help to grow the number of positive reviews.
No one can deny the importance of positive guest reviews. They are a sign of credibility for your listing. Positive reviews lay a vital role in ranking high, and they can make your rental a priority for travelers. However, usually, guests avoid leaving a review once they are gone. You have to encourage them to leave positive reviews for your unit. The best strategy is to send reminders and ask them to leave a review. Additionally, if you leave reviews for your guests, there are chances that they will also leave good reviews for you. You can use software for this job. All you need to do is to set review templates. The software will send reviews on your behalf and will manage the reviews by your guests as well.
Avoid double bookings
When you list your place on multiple platforms, it can be not easy to manage. It can be even more crucial if you manage everything manually. You have to update availability, pricing, and calendar frequently, and it can be not easy. Moreover, another great risk is double booking. It can be damaging to your reputation, so it must be avoided. If you have rental software to support you, you can easily avoid these problems. You can easily connect different platforms and accounts and manage them from a single dashboard. When all the information is synchronized on all platforms, the chances of double booking reduce to zero.
Systematic cleaning and team management
There are different types of accommodations offered on AIRBNB. Not just the accommodation, but everything should be clean to the highest standards. It's not about the cleaning only but maintenance is also very important for rental units. So, you have to keep in touch with your cleaning and maintenance team and update them about the new tasks according to the arrival of guests. Rental software can help you to automate these operations, and interaction with cleaners and other team members will be easy. You can assign tasks to your team, and the system will be updated with new tasks as soon as the new guests arrive.
Facilitate Direct bookings
If you have a direct booking website, you can build your business as a brand. It will help you to have a better profit, and you will be able to maintain a personalized relationship with your guests. However, it is a huge task and needs extra time and effort, but it will enable you to book directly, and you can control your business in a better way. On the other hand, hiring a website developer can be expensive, and if you have no previous experience in website management, it won't be easy to manage for you. The solution to this problem can be the software having tools like a website builder. You can easily develop and maintain your own website. You can manage and update your website without any technical computer knowledge. The software will not only sync calendars but also automate communication with guests. From booking to billing, everything will be automated. Maintaining a website can add some additional revenue to your pocket.
Automate your business
Rental software allows hosts to work efficiently. They not only share the workload but also save a lot of your time. You can grow your business to the next level just by using the right software. It is not expensive but an investment that is worth your money. Rental software is a tool that can automate your rental business. However, it's important to choose the software which is easy to use for you and has all the features you want.
If you'd like to talk more about property management, or you need help with Everest Property Management, please contact us at Everest Realty.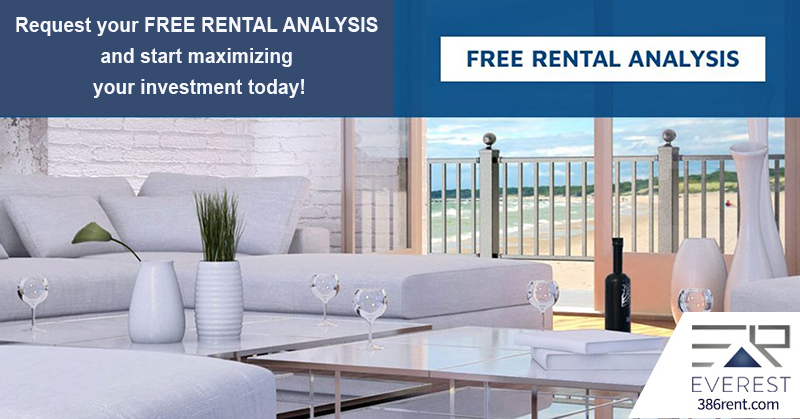 Property Management Service Areas