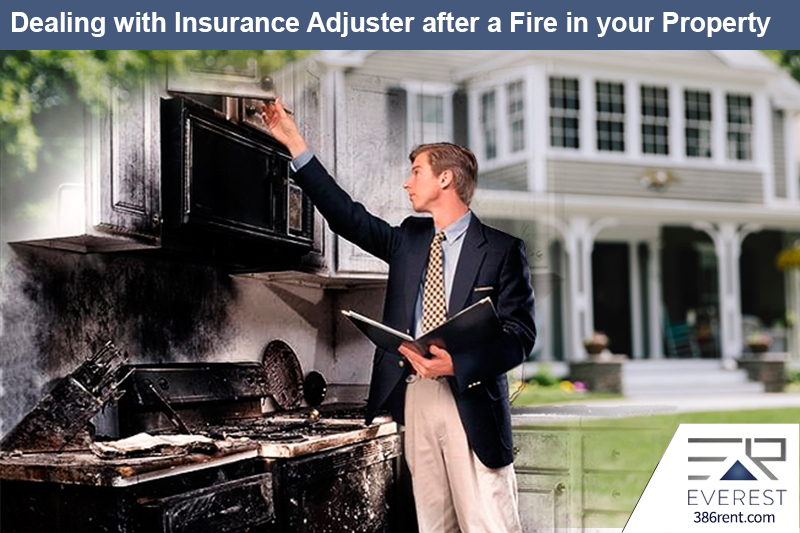 Getting rental property destroyed because of a fire can be a nightmare for any real estate investor. If you have a fire in your rental property, your first task is to try and put it off to minimize the damage to your property. You also need to take care of your tenants. After that you need to file an insurance claim to receive compensation that will help you in repairing the damaged property.

Insurance adjuster is the most important

You must have received a professional called insurance adjuster from your insurance company after you informed them about the fire. This adjuster is sent by the company to make a quick assessment of the extent of damage and the amount of money it would take to get the rental property back in shape. They will come and start clicking pictures. They will also make notes of whatever they see around the property. You walk around with them thinking about the figure he would arrive at. You have your own estimate in your mind, and you worry if their estimate falls below your own estimate. You dearly hope that estimate is same as your own estimate as otherwise it would be impossible to carry out the repairs to bring the property back in the condition it was prior to the fire.

He will try to peg the losses at a lower amount

Here, you need to realize that insurance companies are doing a business and their primary job is to collect premiums and not paying compensations. Therefore, it is always their endeavor to reduce the amount of claim to benefit their company. It is your responsibility to point out all the damage that has been caused by the fire so that he does not miss out on something important in his report. You remain worried all the while he is taking notes and clicking pictures as you are never sure of ajuster intentions. What if they were dishonest and deliberately calculated losses less than they are? If the amount paid in claims by the company proves to be less than your repair estimates, it could become very difficult to carry out your plans to renovate your rental property.

You expect full insurance amount

You may believe that the property has been totally damaged by the fire but in the view of the insurance adjuster, many parts of the structure remain intact. This is the reason why his estimate of the losses is always less than your own estimate. In the eyes of the insurance company, total loss is a term that is used when the property has been destroyed so badly that even the insurance amount would not be able to get it back in shape. This is not the case usually and the insurance adjuster rarely describes the damage as total loss to the property. You can always expect a lesser amount than the amount for which you insured your property. You may claim a total loss, but the insurance company goes by what is written in the report of its insurance adjuster. You must wait for about a week to know what the company thinks about the loss caused by the fire in your property.

You worry and think about the possible amount you would receive in the form of insurance claim. You will find out that there is a whole industry of people ready to help you in getting a higher claim from your insurance company. These professionals fight your case to contest the estimate given by the insurance adjuster. These attorneys charge a fee only if they can get a higher claim form your insurance company. You must decide whether you should allow them to fight your case or not.
If you'd like to talk more about property management, or you need help with Everest Property Management, please contact us at Everest Realty.
Property Management Service Areas
Palm Coast Property Management
Flagler Beach Property Management
Ormond Beach Property Management
St. Augustine Property Management
Daytona Beach Property Management