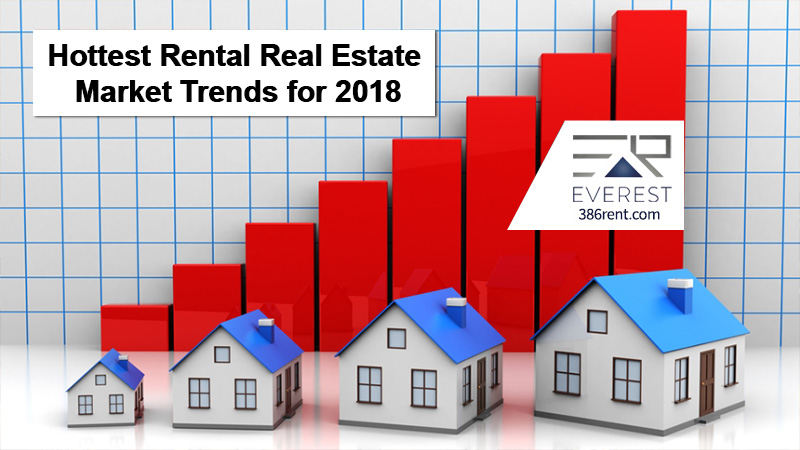 Hottest Rental Real Estate Market Trends for 2018

Real estate forecast outlook in 2018 looks quite positive as US housing market investors are particular pleases with the introduction of new tax cuts, repatriated funds in the US as well as the record high numbers achieved by the US stock market. Rental housing market, like the real estate market, keeps changing all the time with changing demographics and changes in economy. You need to be aware of these changes if you have rental properties or planning to buy them in near future. Experts believe rental housing market will remain hot in 2018 and there are no signs of it slowing down. Here are some of the hottest trends predicted for rental housing market in 2018.
Palm Coast rental market

This might be an obvious trend for every year but it's really the golden time for investors to buy properties and rent them out. It will certainly prove to be your best real estate investment in 2018. Rents are going to increase in 2018 and the market shows no signs of slowing or letting up.
Millennial's are flocking to Palm Coast

Millennial's are coming to Palm Coast in search of employment in large numbers. These men and women are not interested in buying homes and they prove to be great tenants. On average, millennial's, living in the United States of America, usually like to live in a rented apartment for 3 years. So as a landlord, it will be beneficial for you if you rent your properties in 2018.
Palm Coast is also attracting Gen Z

These are young adults born after 1995, just moved out from their parents' homes and in their early career years.. They are looking for rental homes and more interested in their careers. You will find them in large numbers and growing in Florida. Gen Z can be your loyal renters as they have a long way to buy their own homes. However, as they're in their early 20s looking to settle down in their lives, they usually seek affordable rental apartments as compared to that of what millennial's and baby boomers seek.
Look for properties in suburbs

Most investors search for properties in metro areas where there is great competition. It is better to switch to suburbs as more families are looking to live in quiet and peaceful areas. This trend will become more prominent in 2018.
Great returns on investment

Strong economy with lots of employment opportunities means a large number of people looking for rental properties. It is a very smart investment move to earn a steady stream of income right now.

Rents are increasing all the time

With low inventory on the market, people are forced to take homes on rent. This is good news for you as an investor though it also brings in more investors in the rental housing market.
Even older properties are in demand

Go for older properties if you do not find newly built properties in your budget. Renters do not mind living in an older property provided it gives them quick and easy access to workplace and all important amenities.
Sales figures are on a boom

It is not just the rents that are increasing as prices of properties are also increasing at a frantic pace. This is good news for you as an investor as you are assured of good returns from resale after a few years.
If you can handle tenants and management of property, investing in rental real estate is the best kind of investment for you now.