Being an Airbnb investor is something very attractive. However, it is not easy and most people don't understand the process. If you don't have any idea but you want to be an Airbnb investor, this article will help you.
Airbnb was started in 2007, and it offered the opportunity to homeowners to rent their spaces and make some extra money. Real estate investors are also interested in this business and if you want to be a successful investor, you need to follow some steps.
Search for the appropriate market
The first step is to find an appropriate market. Market means the area where demand for short-term rentals is more and you can get a good return on your investment. However, the location should be within your budget too. You can make good profits with short-term rentals, just like long-term rentals. A good market is a place, where more people visit and they need short-term rentals too. You can search the internet to find such a location.
To find the right market you may need real estate data. Some tools are also available, which can help you to choose the right market. These tools help to find an appropriate location and can calculate an estimated return on investment too. Moreover, they provide information about the properties which are available for sale. However, make sure you choose a reliable tool because you are putting your money at risk.
Enhance unique features of your property
We have suggested you buy property at a busy place, but it means you will be having a lot of competition too. To be a successful investor, you need to enhance the unique features of your property. Usually, tenants are attracted to exciting interiors, as they want something different and unique. If you create some attractive features, you will have a high occupancy rate.
You need to make your place better than others around you. Work on the overall look of the place with particular emphasis on furniture. However, consider your budget as well. Choose a plan which gives a unique appearance to your place but is pocket friendly as well. You have to renovate your unit, without spending much. Moreover, make sure your place is not noisy, people love calm places to stay. Amenities like Wi-Fi are also important as everyone uses the internet all the time now. Lack of basic amenities will reduce occupancy rate and guests will leave negative reviews about your place. So, take these things very seriously.
Calculate return on investment
Calculating return on investment is very important for every business and the same is true for Airbnb investment as well. In this business location is vital but investing your money in a good location is not enough for a good profit. You need to do some calculations as well. The unit you are buying must be able to return a reasonable income. If your calculations show Negative cash flow, think about some other options.
Return on investment may be different for different units. If you get a loan at a low-interest rate, it means your monthly profit will increase. But if you have to pay a high mortgage, your monthly income will decrease, despite the high occupancy rate, so consider all factors. Moreover, the occupant rate might be low initially but after having positive reviews from guests, it might increase.
To calculate return on investment you need related data and analytical tools for the processing. You can find formulas online and a simple Excel sheet can help you to calculate. Airbnb also provides some data like per night charges in different areas and occupant rates at different locations. Moreover, some online tools can also help to calculate.
Right pricing
Another important factor for the success of your Airbnb rental is the pricing. It seems very easy but you need to consider different things before you price your unit. The price should not be very cheap, because you will not be able to make money. It should not be very high because people will not stay in your unit and you will end up losing your investment. For the right pricing, you need to research the market. Know about the rent of other properties, which are similar to yours. Consider their size, location, and amenities they offer. You need to consider the amenities you are offering. If you can offer some extra services, you have the right to charge higher than others. Calculate your expenses, mortgage, utility bills, taxes, etc. Another important thing is the demand and supply balance. When its high season demand for rentals increases, you can ask for a high rate. But when there are not enough guests in the area, the season is low, so you need to reduce the price to attract guests. Moreover, you can use the dynamic pricing option which Airbnb offers. It's the optimal price calculator which changes the price on Airbnb on a day to day basis. You need to adjust a few settings and it will automatically suggest pricing for your unit.
Offer excellent services
To make a profit on Airbnb, you need to provide excellent services to your guests. If you have a unique rental place equipped with all amenities but you fail to offer good service, no one will be ready to stay in your unit. You need to be very active as an Airbnb investor. Cleaning is vital after one guest leaves and you need to restock basic things like soaps and dishwashers before the new guest arrives. In high season, it becomes very difficult for owners but it's very important. If you fail to manage, you can get help from the property manager.
Verdict
Airbnb offers a lucrative business opportunity to homeowners. You can earn well with short-term rentals, sometimes more than long-term rentals, but you have to have the right approach. If you plan properly and do proper market research you can make good money. Firstly, find a good market to buy the rental unit. Renovate it uniquely and set the right price. Moreover, the return on investment calculation is also very important. Lastly, offer the best service to your guests. You can get help from online tools throughout the process.
If you'd like to talk more about property management, or you need help with Everest Property Management, please contact us at Everest Realty.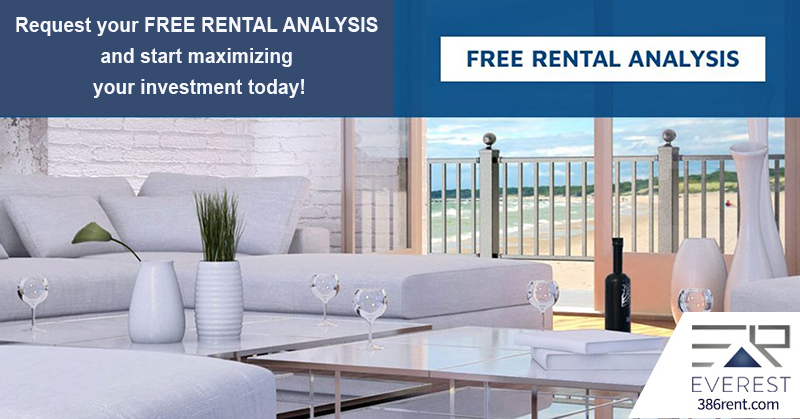 Property Management Service Areas