Long Distance Landlord: Tips to Manage Your Property From A Distance
Property management is not easy and when you are a long-distance owner, it becomes very challenging. It's very hard to manage when you are not in the same location. However, it is not impossible. We have collected a list of a few tips, which can help you to manage your property properly, even from a distance.
Long-distance property owner
Usually, being a landlord seems very easy but it is not. Property management is a time taking Job and also demands some skills. You need to put effort into managing your property successfully. Managing property is difficult, but it's very difficult when you are away. These few tips can help you.
Find reliable renters
When you are away from your property, you need to find reliable people who can take care of your property in your absence. Tenants should follow all rules in the agreement and pay monthly rent well on time. It will reduce your problems as a landlord. However, finding good renters is not easy. You have to search for them by using different tools. Plan proper screening, and check their rental history, employment record, credit history, and criminal background too. You can also ask for references and check with them. However, during screening, you must be aware of housing laws and must follow them. Moreover, your rental unit must be appropriate for those good tenants you are searching for. If your unit is not well maintained, it will be hard to find good tenants. So, the condition of your rental unit should be good enough to attract good tenants.
Lease your property
It's a good option for those owners, who live away from their rental property. You can lease your unit for a fixed time, which can be for years. However, make a detailed agreement for that and make sure all do and don't are mentioned. If the agreement mentions all lease clauses, it will reduce the risk of developing disputes at a later stage.
Develop efficient communication
Proper communication is important for every business and property management is no exception. You need to keep in touch with the tenant, no matter how far you are. Open channels like email and call for your tenants and be accessible to them. The tenant must be able to contact you in case of emergency, round the clock. Talk to them on the phone and ask if they have any problems. If you have a good tenant, make sure they stay at your property for long and for that they must be satisfied. If you will not be available for the tenant for a few days, for any proposed engagement, let them know in advance.
Establish automated payment method
When you are not at the same location, it will be difficult for the renter to send you monthly rent as cash or check. So, it's time to automate your payments. Use any online method, which suits you and your tenant is also comfortable with that. It will reduce the risk of nonpayment and you will have a steady income in your account.
Develop a reliable team
When you are a long-distance landlord, you cannot keep an eye on your property regularly. But it is very important to keep yourself well informed. You can visit when it's easier for you. But in your absence, you must have a trusted individual who can keep a check on your property. The person can be your friend, any distant relative, or even a local shopkeeper. They do not need to meet the tenant or enter the property. Just a nearby stroll will be enough to know that everything is fine. Moreover, you need to keep in touch with local handymen like plumbers and electricians. Ask them for regular maintenance and they will be ready for emergencies as well. If you have reliable people, property management from a distance will be easy.
Get proper insurance
Insurance is important for every property owner, no matter whether they are local or long-distance. The type of insurance depends on the type of property. According to the location of the property, get insurance coverage for floods and fires. Other than that, a rental property must be insured against lost rental income and theft. Moreover, ask the tenant for appropriate insurance for their items too.
Hire a manager for your property
Above mentioned tips can help you to manage your property from a distance. But if you still feel insecure and insufficient, hiring a property manager is the ultimate solution. They can take care of all the responsibilities of a landlord. Moreover, They are professionally trained to deal with all kinds of tenant-related documents and everything related to a rental unit. So, they can easily manage your property and you can enjoy your life.
Pros and cons of being a long-distance landlord
Many people are usually confused if they buy a rental property in another city or not. You need to understand the pros and cons of that.
If we talk about advantages, having a second income stream is the biggest advantage. Other than that, you can enjoy some tax relations being a long-distance property owner. But it depends on the location of your property. Moreover, you will be able to explore two different markets and hence more investment opportunities.
However, there are some disadvantages as well. For instance, it's not easy to understand a rental market that is far away. When you cannot do personal inspection and maintenance visits, you are always in a vulnerable condition. However, you can overcome these issues by using appropriate technology and hiring a reliable property manager.
Verdict
Being a long-distance property owner has both advantages and disadvantages. But it all depends on your situation. You can turn disadvantages into advantages if you keep in touch with your tenant and has a reliable local team of handymen. Moreover, a property manager can fulfill all the gaps and you can be a successful landlord even from a long distance.
If you'd like to talk more about property management, or you need help with Everest Property Management, please contact us at Everest Realty.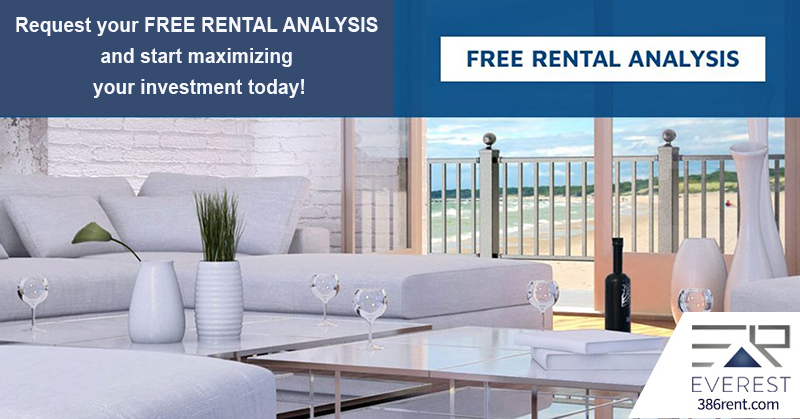 Property Management Service Areas