Real estate investment is a lucrative business, but all investment properties are not profitable. Some h loss housing markets are good for rental business, while others are suitable to flip. Proper analysis can guide you about the suitable use of a specific property. The rental market is very versatile and Rental Market Analysis or RMA Is very essential for profit analysis. This is a detailed analysis of comparable properties, local market trends and average expected rental income. If the outcome of this analysis is positive, it will reflect that profit will be more than expenses and you can invest in this specific property. On the other hand, if the result of the analysis is negative, it's a warning that you should avoid investing in this property.
Many new investors have no idea about RMA. This analysis is very easy, you can do it manually if you have access to the required data. Otherwise, some online tools are also available, which can help you to do this analysis. Here we are discussing some basic details about RMA, what it is and how you can do it.
Rental market analysis
Evaluation of the housing market is called rental market analysis. It is about analysis of the rental market concerning property data and finding the investment potential of a property. Real estate investors use it as a tool before they invest in any rental property. It works for short-term and long-term rentals, both.
It is similar to CMA or Competitive Market Analysis, as in both cases investment properties are compared and few property matrices are calculated. However, real estate agents do CMA to evaluate the market value of a property, while RMA reflects the rental potential of a property. Investors do RMA to evaluate if a property is worth their investment or not. It also helps to set rental value, as high rent will be unaffordable for tenants and low rent will be a loss for the owner. However, to enjoy the advantages of RMA you need to do it correctly. If you have no idea about the RMA process, we are here to help you.
How to do a Rental Market Analysis?
Now you understand that rental market analysis is important before you invest in any rental property. It will give you an idea about the property expenses in a particular area and how much profit you can make. Here are the steps which you can follow to do a market analysis.
Neighborhood analysis
When we analyze any investment property, location is very important. It is the factor that deeply affects the profit potential of any property. The rental rate of the property will depend mostly on the location, so choose the location carefully. Many investors think about the city when we talk about location. But location is not about the city it's about the neighborhood, at a very small level. The city is large and in different areas of the same city, rental rates are different. Some neighborhoods are suitable for long-term rentals while others are suitable for short-term rentals.
You need to choose a neighborhood with an affordable rental rate and good rental demand. Here are some points which can help you to evaluate.
Employment situation: Housing affordability is associated with the employment rate in an area. If employment in the area is high, it means more people can afford housing and pay rent. So, get information about the employment rate and job growth rate in an area, before you invest in rental property in that neighborhood.
Access to transport: Usually tenants prefer that area for the residence where access to public transport is easy. Every tenant cannot afford to have a personal vehicle. So, if they have access to public transport, the neighborhood will be a hotspot for rental businesses.
Educational institutions: If you want to invest in family rental units, invest in that housing market that is close to any good educational institution. Many tenants prefer to live in close vicinity of school or college, where their kids are enrolled.
Other amenities: People prefer living in those areas where they have access to amenities like shopping districts, libraries, parks, and medical facilities. If these facilities are available within walking distance, the area will have high rental demand.
Safety: Safe neighborhood is what everyone wants. If a neighborhood has a low crime rate, rentals will be attracted to it. So, consider the safety factor goo, before you invest in any housing market.
You have to remember that you can renovate your property and can make it attractive but the thing you cannot change is its location. So, do neighborhood analysis very seriously, it is the foundation on which your cash flow is based.
Collect details about the property
When you decide on the market, you need to find a suitable property. Usually, square footage and price are the most common details about any property. But you have to get information about features, amenities it has and if you will get any concession in price. Following are the details which you should collect before you think about investing in it.
Get the complete address.

Check the status of the property, is it on market, is it foreclosure, is it listed yet or not?

How many bedrooms and bathrooms does it has?

What are the amenities it offers like parking spots, a swimming pool, etc?

What is the square foot area of this property?

When was it listed? For how many days it's available on the market?

What is the listing price?
You can get this information manually and some online tools also offer it, which is a quick method to access complete information.
Find comparable properties
Now you have to find some properties which are comparable to your selected property. These properties must have similar locations, features, and characteristics. It will help to determine the average rental rate of the property in your preferred neighborhood. You have to find five comparable properties for reliable results. This comparison will give an approximate idea, and you will be able to decide if you will make a profit in this area or not.
If you'd like to talk more about property management, or you need help with Everest Property Management, please contact us at Everest Realty.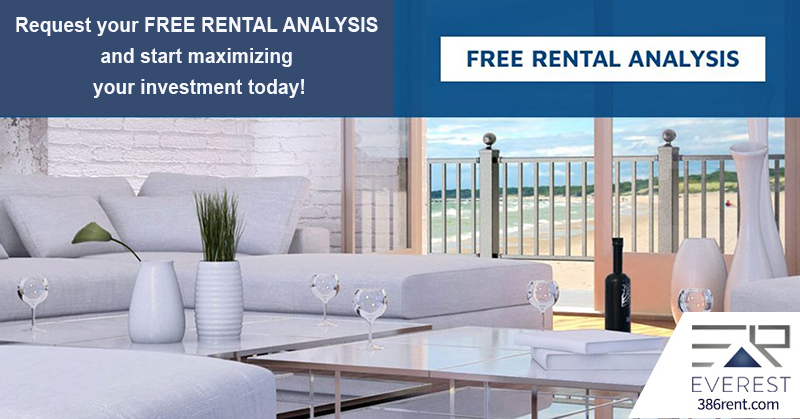 Property Management Service Areas