Real estate investment is a reliable investment to make money. It is useful for short-term investments and long-term investments as well. During the pandemic, the market was very not stable, but now a stable and growing real estate market is expected in various states of the country.
How much money an investor will make depends on the market he is investing in and the kind of property he buys. Some properties and some locations offer a better return than others. Ideally, a profitable rental property should be ready to rent. It should be cheap and located in a strong rental market. If you are interested in short-term rental, the location should be great. But it is not easy to find such an ideal property. Many new investors have no idea how they should find a profitable rental property. Here we are discussing a step-by-step procedure, which can help you to find good rental properties near you.
Steps to find rental properties
Following are the steps you can follow to find a good rental property.
Choose a good neighborhood
Real estate investment is all about selecting the right location. It is the basic thing that can help you to grow the business and you can earn good money. Choose the right market for investment. It should be suitable for your budget and rental strategy and at the same time must be a good return on your investment. You can meet the real estate agent in the neighborhood you have selected or use online platforms for this purpose. The online source must be regularly updated for new listings and must mention the hotspots for rentals.
Do local market analysis
Once you choose a neighborhood, the next step is to analyze the local market. It will help you to know if this location will be able to provide the results you want. The area should support your goals. You need to know the median property price, per square foot price, cash on cash return for short-term and long-term, and average rental income. Other than that, you must also know the number of properties available for sale, the number of rental units in the area, and the occupancy rate of this location. If you get data regarding transit score and rental size distribution, it will be a big plus. If you have data, you can do this analysis manually, but some software is also available which can do this job for you. They can calculate the estimated profit on your investment and can provide you with complete information about available properties. You need to focus on those markets which have reasonable property prices and rental income is good. The rental listings should be few and the occupancy rate should be good.
Search for the rental property through different sources
When you have narrowed down your choices, the next step is to find the property. Investors use different sources to find a good property. Real estate agents and newspapers are some conventional sources to find a rental property. If you are interested in off-market homes or foreclosure, you need to consult banks. Now another popular source is also available, that can help you to find good properties. Online listings are websites that are very useful in this regard. They have a complete database of residential properties for sale. You can get information about the type of property, its size, location, and price. Some websites target homeowners while others focus on investors and tenants., so choose your platform appropriately.
Rental property analysis
As the next step, you have to analyze the properties you have selected. Investors cannot buy many properties at the same time. They have to choose the best option and for that selection, analysis is important. You need to locate comparable rental properties in the same neighborhood. These properties are also called rental comps. Find a comparable property and assume that the property you are planning to buy will perform in the same way. However, it is very time-consuming, if you will try to do it manually. Moreover, new investors have no access to rental data and such analysis is very difficult for them. At this stage, you can again use software which not only completes data but also does analysis for you. This software uses different matrices for analysis like property price, rental income, rental expenses, occupancy rate, cash flow, and cap Rate. However, make sure the platform you are using has a reliable source of data.
Choose your rental strategy
Next, you have to choose your rental strategy. It should be suitable for your local market. The rental strategy depends on location, economy, and various other factors. Find out if short-term rental is suitable for you or if long-term rental will fulfill your desired goals. You can choose a single-family rental unit or a multi-unit property, the choice is yours. Choose the option, which your analysis supports. If you have experience buying rental properties before and you have good negotiation skills, close the deal yourself. But if you have no previous experience, get assistance from a real estate agent. He can help you to close the deal with better terms and conditions.
Management of rental property
As the last step, you have to decide who will manage your property. You can manage it yourself, particularly if it's a short-term rental. The other option is to hire a property manager. If you hire a manager, you need to add his salary to your expenses list. Property managers earn extra income for you by Sharing your workload and saving your time. However, if you have time you can do the management of rental property, yourself.
These are the basic steps that can help you to find a good rental property in your desired neighborhood. When you plan to buy a property, you need to take care of your finances in terms of loans and mortgages. However, when it comes to buying property, online tools are suitable as they are easy to access and they do complete analysis without wasting time.
If you'd like to talk more about property management, or you need help with Everest Property Management, please contact us at Everest Realty.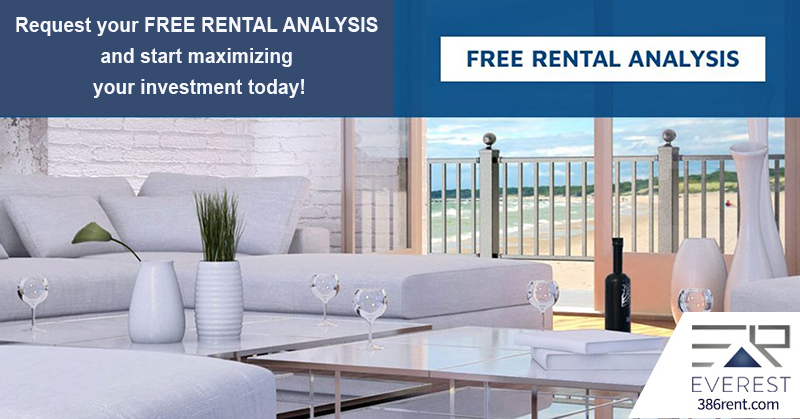 Property Management Service Areas