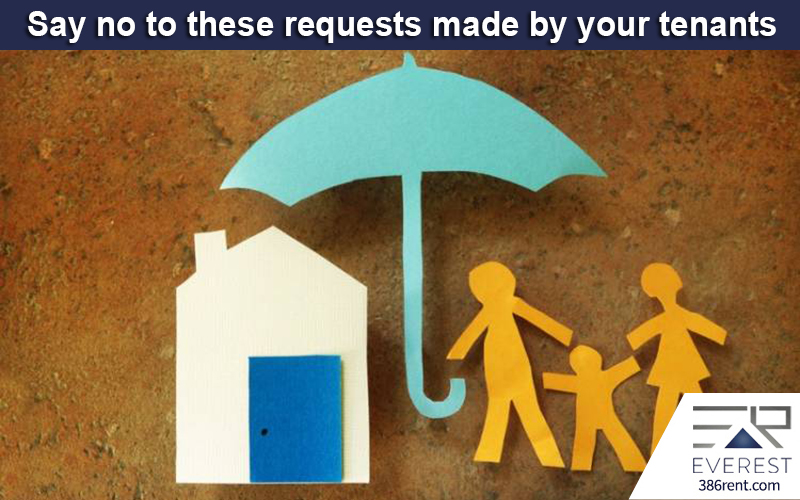 One of the toughest aspects of being a landlord is dealing with tenants. You must have heard about horror stories of bad tenants and the troubles they caused for their landlords. You need to be tough when dealing with your tenants if you wish to maintain a positive cash flow from your property and also to prevent damage to your property. You need to learn how to be professional when dealing with your tenants without harming the relationships you enjoy with them. Here are some situations where you need to put your foot down to request made by your tenants.
They are hiding a pet
If you have a policy of no pets on your rental property and you suspect one of your tenants is hiding the fact about a pet, it is your job to deal with the matter in a fair and professional manner. You cannot bow down to a request made by the tenant to be allowed to keep the pet as he is a friendly animal. If you make a concession for one tenant, you are likely to face similar situation with other tenants also. If you wish to make a onetime exception, make sure you collect a pet deposit from the tenant after giving him a warning.
They want to decorate the home
Many times, landlords have to give small concessions to their tenants desirous of enhancing the decor of the unit according to their liking. However, there are some tenants who go too far in their exercise and make alterations that are not good for your long term investment objectives. If one of your tenants caused damage to your property earlier in the name of improvements, you know you have to stay firm and say no to a request of decoration that can prove costly in terms of fixing later on. Tell your tenants they are free to make improvements that are of a temporary nature as fixing permanent improvements can be difficult for you.
Saying no to a request of late payment of rent
This is a request that proves tough for most landlords to turn down. If you know a tenant has a genuine financial problem or if there is a tenant who has otherwise been a very good tenant, you may find it very difficult to say no to a request of late payment of rent. Allowing a tenant to pay his rent late can easily spread like a wild disease. Remember that you are doing a business and not running a charity. Your lender will not listen to any excuses when it is time to pay your monthly installment. Entertaining a request for late payment once in a blue moon is OK with a genuine tenant but it can be harmful to your business in the long run.
In the end
Many people think that the business of a landlord is easy, and he enjoys passive income without doing much work. But dealing with tenants can be a very stressful job, especially when you must learn to say no to requests that are seemingly innocuous. However, you can make it easy for yourself by dealing with your tenants in a professional manner without hurting your relationships with them. The important thing here is to make sure you appear to be fair and consistent in your dealings with your tenants. You should not make exceptions for a tenant as other tenants feel bad and they may even think of leaving your property. You can say that it is a matter of policy and you cannot change the policy for one tenant. This is how you can stop tenants form looking at your decisions at a personal level.
If you'd like to talk more about property management, or you need help with Everest Property Management, please contact us at Everest Realty.
Property Management Service Areas
Palm Coast Property Management
Flagler Beach Property Management
Ormond Beach Property Management
St. Augustine Property Management