Pandemic has affected many industries very badly, and tourism was one of them. After two years, traveling restrictions are relaxing, and people are expecting a revival of tourism worldwide. Local and international tourist sites are reopening, which also leads to an increase in demand for short-term rental units. It means real estate investors can also take advantage of flourishing tourism. If you are also a real estate investor, it will be interesting to know that investing in short-term rentals is a wise decision in this situation.
What is a short-term rental?
Short-term rental has many names; it is also called Airbnb rental, vacation rental, and STR. It is a residential space offered to visitors for a short time. These rental units are furnished and can be as small as a single room and large as the whole house. The duration of the rental period can be a few days to weeks, but usually, it is less than a month.
Short-term rental can be profitable if your unit is at the right location. Moreover, you must have information about the local real estate market and the high and low times in this business. For short-term rentals, you need to manage them properly. Marketing and maintenance are the keys to success.
How to invest in short term rental properties
If you want to invest in vacation rentals, you have to plan properly. You must have the financial capacity to manage these units. If you have sufficient finances to invest, you can follow the given steps.
Find the right property.
In short-term rental investment, the most challenging step is to find the right property. The location of the property and its type determine the success of your business. When you find the property for a short-term rental business, you must consider the following factors.
Location: the reason for the short-term stay is usually business or tourism. So, the location of the rental unit should be close to the tourist attractions and business areas of the town. Moreover, find a house where other amenities are easily accessible like public transport, dining, and shopping. Additionally, the area should be safe for tourists.

Property type: vacation rental unit can be a room, multiple rooms, and the entire house. So, you need to choose your target market first. If you want to rent it out to small families or couples, a condo will be the right choice. If you want to target families, an entire house will be a good idea.

Airbnb Regulations: Compliance with Airbnb regulations is also an important factor. These regulations may vary from city to city and state to state. Make sure Airbnb is legal in your location and read all the laws and regulations before listing your house.

Real Estate analysis: before starting investment in short-term rentals, it's very important to analyze the local market. Consider details like cap rate, occupancy rate, and cash on cash return. However, it can be a time-consuming process. To get rid of this problem, you can use data analysis tools easily available online.
Register your property
The next step is to register your property. But before that, your rental unit must be ready to receive guests. Renovate and repair your property and furnish it properly. When you register your property, you may need a rental license, but that is not necessary in every case. You need to follow local Airbnb rules in this regard. Otherwise, you might have to pay unnecessary fines. Airbnb and comply with other local laws related to the rental unit.
Set a price and list your rental unit
Once you have registered your property, you can get ready to list your property. There are various platforms where you can list your rental unit for short-term use. More exposure increases its chances of booking. You have to pay some fee to these platforms, so add this fee to the price of your rental unit.
When it comes to pricing the property, it should be a positive cash flow and must add good money to your monthly income. However, keep in mind that if the price is very high, you will have fewer renters, and if you ask for a low price, you may not be able to add good monthly income to your budget. Airbnb rental comps can help you to adjust rental prices accurately.
How to manage short-term rental units?
Finding a rental property is not all about rental unit investment. Once the unit is set to receive tenants, you have to maintain and manage it to get monthly income. Management is all about marketing, maintenance, and booking.
Following are the few things you can do for the management of your unit.
Maintenance: To protect your investment, you have to maintain your property. When different people constantly use it, wear and tear are natural. However, it would help if you did regular repairs for a better customer experience.
Offer better customer experience: customer service is an important factor in the success of your short-term rental business. A guest management strategy can help you to improve your services. If you respond to customer requests in time, they will leave positive feedback, increasing your exposure and booking frequency.
Use property management tools: various software is available to automate booking and pricing. These tools can help to manage your listing as well. Moreover, they are not very expensive, if you compare their price with the fee of a professional property manager. These tools can help you if you want to list your property on more than one platform.
These are a few basic things that can help you if you want to invest in a short-term rental. It's a lucrative business and can be a good source of income, but you have to carefully choose the location and type of property. Moreover, proper pricing and maintenance can also be vital for success. For managing your business, you can hire professionals or use software, whatever is suitable and affordable for you.
If you'd like to talk more about property management, or you need help with Everest Property Management, please contact us at Everest Realty.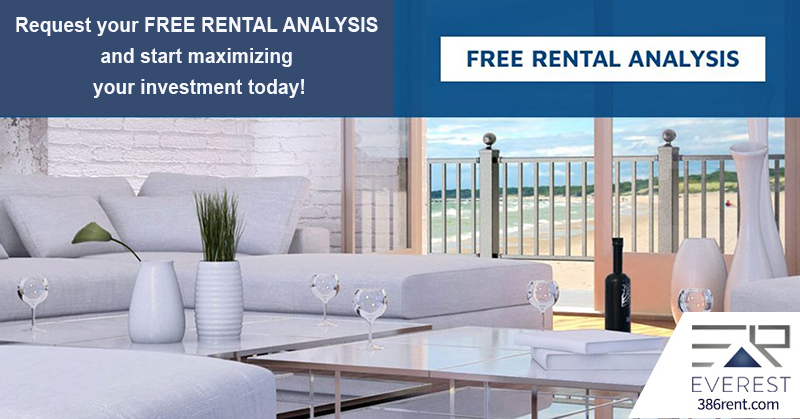 Property Management Service Areas