There have been many reasons to invest in real estate since time immemorial. However, getting started isn't as complicated. Airbnb rental properties are becoming increasingly popular as a real estate investment. Guests (referred to as guests) book your rental for a short period.
Investing in Airbnbs has become popular for several reasons. You can set an attractive nightly rate and make your property available for booking as many nights as possible. In addition, you can also use the property yourself, so you have more flexibility.
There are many advantages to short-term rentals. However, investing in any property doesn't guarantee handsome returns. The competition is getting tougher.
Airbnb Rental Challenges for 2023
There are some challenges that investors face with Airbnb rentals, even though it's a lucrative investment. Here are a few of them in 2023. Airbnb revenue calculators can help counter these challenges.
Regs and Laws for Airbnb
As Airbnb's popularity grew, local governments began to regulate it. Some banned the properties, while others passed strict regulations to ensure investors adhered to them. The number of days you can rent your property as a short-term rental may be capped in your city, for instance. Airbnbs are not allowed in certain neighborhoods due to zoning laws.
Airbnb investors should check their local laws and regulations to avoid legal trouble. Make sure the laws aren't outdated as well. This information can often be hard to find, especially since it isn't universal.
Finding a Profitable Location
The location of your Airbnb rentals determines your nightly rate and how much you'll spend with your earnings. Not all locations make good short-term rental locations. A traditional rental may not necessarily be a good Airbnb rental location.
If you invest in tourist cities, you'll have a high Airbnb occupancy rate. Cities with busy tourism activities receive a lot of visitors every year.
Many investors cannot access data and analytics to help them choose profitable Airbnb locations. Thus, you can set a higher nightly rate. Performing calculations manually would mean gathering copious amounts of data, which could lead to errors.
Setting a Nightly Fair Rate
A reasonable nightly rate is a rate that is fair to your target market but also profitable enough to leave you with sufficient returns after expenses to keep you in business.
Airbnb rental comps are similar properties located within the same neighborhood as your property that have the same features. Airbnb rental comps give you an accurate picture of how much you can charge since they are already active short-term rentals. However, not every investor has access to accurate Airbnb rental comps.
Property Management
Unlike traditional rentals, Airbnb properties require you to be present during check-in and check-out. To ensure a steady flow of guests, it is important to clean the property every time guests check out, welcome new tenants, and market continuously.
It may seem daunting, but you can hire an experienced property manager to do all the heavy lifting. In most cases, you will have to pay a certain percentage of the rental income to a property management agency. Consider this an investment that allows you to focus on your core business tasks without distractions.
Guest handling
Airbnb investments are a lot of work. Airbnb properties have a high tenant turnover, so you must stay organized.
The biggest risk with Airbnb is hosting irate or rowdy guests. You need to know how to handle such guests. Remember, Airbnb has a reviews feature; many guests don't skip bad reviews. Keeping your guests happy and orderly is a challenge.
Revenue Calculator for Airbnb
Real estate investors, both newbies and experienced ones can use Airbnb revenue calculators to find profitable Airbnb rental properties. This advanced real estate technology tool lets you analyze the real estate market and investment properties.
If interested in a specific property, you can enter the address to estimate its profit potential. Using the best Airbnb calculator eliminates the time and energy needed to analyze the market, find a property, and calculate returns.
Using a good Airbnb calculator, you can spot and analyze real estate investment properties before anyone else. These processes can take you up to three months when done manually.
How Does an Airbnb Revenue Calculator Work?
It's time to conduct an investment property analysis after studying the market, looking at rental comps, and looking for prospective properties. To complete this task, use an Airbnb revenue calculator.
You can access the following numbers:
Listing price

Expense estimates

Rental income estimate

Budgeted cash flow

Cash-on-Cash Airbnb

CAP on Airbnb
Some Airbnb properties may perform differently and yield different numbers than anticipated based on your research or experience as a host. Thus, you can adjust your figures to see how they affect your ROI.
Airbnb Revenue Calculator: What Data Should I Expect?
What metrics and figures can an Airbnb revenue calculator provide for you?
Price of property
Airbnb's Airbnb calculator shows you what the listing prices are. Keep in mind that listing prices aren't always the sale prices. The amount of money you pay for the property is one of the key factors determining your return on investment rate, so keep that in mind.
Airbnb Rentals
You can estimate your Airbnb rental income using a good Airbnb revenue calculator. This figure is used to calculate your return on investment. Since this tool calculates the prevailing Airbnb nightly rate in your market and neighborhood, you might also call it the Airbnb price calculator.
Airbnb Rental Expenses
Real estate investing requires spending money to make money, especially for Airbnb properties.
With an Airbnb calculator, you can see how much you'll have to pay for one-time and recurring expenses. The estimates are based on current market conditions. You can use the Airbnb revenue calculator to calculate one-time startup costs. You'll also get estimates for recurring expenses, such as—
Insurance;

Taxes;

Management fees;

Services;

Cleaning; maintenance;

HOA fees.
Airbnb occupancy
Airbnb calculators usually require two variables when estimating rental income: the nightly rate and the occupancy rate.
It refers to how many days your Airbnb property is booked compared to how many days it is available for booking. Airbnb occupancy rates vary with the season. In short, you have more bookings during a specific period.
A higher occupancy rate means higher rental income. You should aim for properties with a 50% occupancy rate. Your Airbnb revenue calculator should give you accurate occupancy rate data. You must collect the data from the entire neighborhood, not just a few nearby properties.
Airbnb Cash Flow
The difference between income and expenses is cash flow. Once you have Airbnb rental income and expense estimates, you can calculate this metric easily. If you want to invest in a property with positive cash flow, an Airbnb calculator will provide you with that information. You earn enough to cover property expenses and still profit handsomely.
Airbnb Cap Rate & Cash on Cash Return
In addition to cash on cash return, the cap rate does not consider financing methods used to acquire the property. Despite having all the figures, calculating these two metrics manually can be difficult and error-prone. Airbnb calculators give you fast, accurate results.
You'll make better investment decisions with an Airbnb revenue calculator if you can access these metrics.
Conclusion
Investors are increasingly turning to Airbnb properties because they offer higher rental incomes than traditional ones. However, it is not always easy to invest in Airbnb properties. It is challenging for investors to find Airbnb laws and regulations in their markets, find suitable locations and neighborhoods, and set a reasonable nightly rate that is profitable.
All of these problems can be solved using Airbnb's revenue calculator. In addition, you can get important metrics on a property, such as estimated rental income, cash flow, cash on cash return, and cap rate.
If you'd like to talk more about property management, or you need help with Everest Property Management, please contact us at Everest Realty.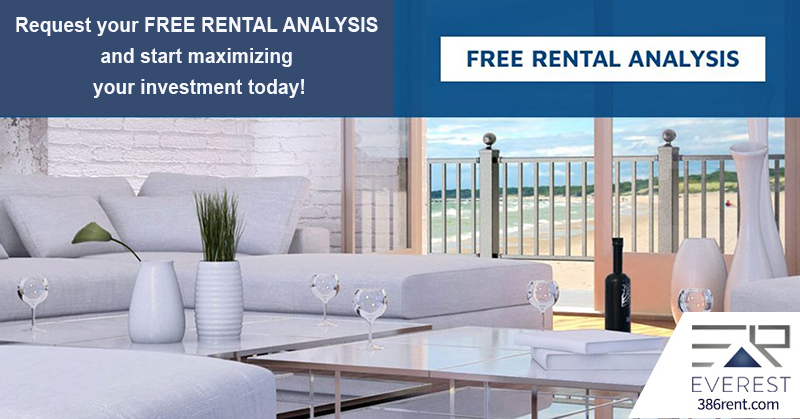 Property Management Service Areas