Marketing is one tool that can help get from zero to the top in your industry. Whether you are in packaging or real estate, whether you design apparel or make candles, marketing can help you change the way your business works. When it comes to real estate, most landlords aren't too keen on marketing. Most rentals get advertised through word of mouth, even in today's advanced era.
The rules of marketing and advertisement have changed, and with that, there is also a change in how people see and search for things. The marketing rules are the same for all industries, so if you are in the real estate business and think marketing can't help you much, you are sadly mistaken; we suggest you amend your ways. A long time back, the landlords and property managers use to put up signs "Property for Sale" and the likes to attract potential buyers and renters; needless to say, the times have changed drastically. What used to work back then doesn't work now.
If you are looking for the latest ways to advertise your property, here are some of the things you should consider.
Keep The Millennials In Prospect While Advertising:
The renter's pool is dominated by millennials; these are the people who rent rather than buy. They are always on the lookout for renting places that are just as fast-paced as they are, and one of the biggest rules of advertising is to do it as per your targeted audience. Most people forget this golden rule and advertise according to what they are selling and fail dismally.
Think about your target audience, think about what they need, what they want, and then plan your advertising strategy. If you are targeting Generation Z, make sure that you have included all the features they are looking for in their rentals. Search about your target audience, their behavior, needs, wants, and habits, and you will be able to cook up the best marketing strategy ever. A little homework will go a long way if you are willing to out in the effort.
Apart from studying the habits of your targeted audience, also study where they spend most of their time. There are many mediums for advertising, TV, Newspaper, Magazines as well as social media. You need to know exactly where your targeted audience is spending most of their time. Where do they do their searches? For example, for the new age renters are all on Facebook, Instagram, Twitter, and Snapchat, now think which of these mediums are best for advertising your property?
Once you lock down on their habits, needs, and where they spend their time, you will need to list your rental there so that you get the most visibility. This is a very smart approach; unfortunately, not many are following it. But this means if you start today, you will get more reach than all your competitors.
Here's how you can smartly advertise your rental online and get high visibility:
Define Your Target Market:
The first thing you need to do, before even starting to brainstorm about marketing, is to think about who are the ideal people for your rental. This is called detecting the "Renter's Persona." Once you start establishing a renter's persona, you will be able to gauge what your target market needs from your listing. A loft/one-bedroom apartment is great for bachelors, a house with a back and front yard is great for families with kids and pets, a studio is great for professionals who are always on the go or best for students in a college town. Once you know what group of people you should target through your market, your marketing will start getting better and better.
Make Your Listing Unique With A Smart Title And Comprehensive Description:
At a glance, when people are searching for a rental's listing, the first thing they see is the title, then they go about checking out the pictures. But they will not click the title if it doesn't tell them what they want to hear. Your title is your only chance to make an impression, and you will not get a second chance, so make sure you get it right I the first try. Writing a property listing is crucial; one shouldn't take it lightly.
Always make your title and description both comprehensive and catchy. Keep it as brief as you can but also don't keep basic information out. You wouldn't want to write a novel that no one would bother to read, but you wouldn't want to keep important information out; balance is the key here. For example, if you have a condo that comes with a hot pool and a gym membership, you should make sure that this information is added to your title as well as your description. Here are some do's and don'ts of adding a listing.
Do's:
Use proper adjectives like huge floor to ceiling windows with ample sunlight from all directions.
Try and list all important amenities like pool, spa, gym, fitness club
List all the places that may attract the tenant in the neighborhood like a walking track, dog park, café, bar, etc.,
Don'ts:
Be vague and post about vacant property on ABC street
When writing a description or title, use a casual tone, like writing to a friend, don't sound like a robot. The reader or search would like the connection your writing will make with them, and this will become a huge plus should they contact you to check the place out.
Pictures:
Once you have your title and description in place, the second thing you will need to do is post pictures. Now, your pictures are as important as your title because this is what will sell your property. You want the tenant or buyer to see your place just as it is—emphasis on all good parts of your property. Do not conceal the drawbacks, but don't highlight them either.
De-cluttered, clean and neat pictures with proper lighting will make the most impact, so make sure you hire a proper photographer to click your property photos.
If you'd like to talk more about property management, or you need help with Everest Property Management, please contact us at Everest Realty.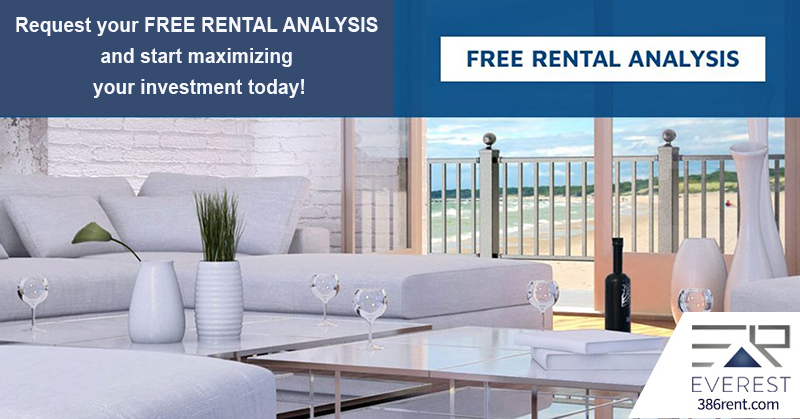 Property Management Service Areas