Many Industries are growing in The United States and Airbnb is one of them. So people who want to buy a second home or are planning to start a rental business must try this option. However, making money with rental properties is not as easy as it seems. You have to plan it carefully to get the desired results. If you are a beginner in this business, this article will help you. You will learn some investment tricks, which can help you to make money with your vocational rental properties and start it as a lucrative business.
Do proper research
The first thing for any investment, including the rental property investment, is research. It is particularly more important for beginners as they are not well aware of the market trends and other important factors. However, the internet is flooded with any kind of information you need. You can easily find blogs, which provide information about different aspects of the rental business, particularly vocational rentals. You can get basic information about buying appropriate rental units and how to manage them for proper income.
Vacation rentals are short-term rental units. Managing a vocational rental unit is different from that of a conventional rental unit. The tenants are different with different needs. Your unit will be on rent for a short time so you need a different marketing and management strategy. Marketing is very important when it comes to making money with vocational rental units. List your property on all the popular rental platforms, including Airbnb. You need to be very focused and utilize all the sources to make your business a success.
Buy appropriate vacation rental unit
The appropriate rental unit is very important to make money with your vacation rental. Choose the right property at a good location. Let's consider these factors in slight detail.
Location: Location plays a very vital role in the success of vacation rental property. The right location can start a steady source of income for you. Find a place near a popular tourist attraction. Beaches, ski resorts, theme parks, and other such activities are the hot spots for tourist activities. A vacation rental property at a place that has high tourists is a great asset to have.

Check the latest regulations: If you are an Airbnb investor, you have to keep an eye on changing rules and regulations. Companies change their policies for short-term rentals and sometimes impose restrictions and bans too, so you have to keep yourself updated about these things. For instance, in some cities, there are limitations on the number of guests you can receive during a year. Moreover, you will need a license to work as an Airbnb host, otherwise, plenty is imposed on rentals who work without rentals. In short, knowing all these regulations is very important to work as a vocational rental property owner.

Seasonal appeal: It is a big challenge to make money with vacation rentals throughout the year. If you have property at a place which attracts tourists around the year, this problem can be solved easily. Other than tourists, you can target business persons who visit the city occasionally for business.

Type of property: If you have more rental units, you can accommodate more guests. You have to decide if a single-family home is suitable for you or if a multi-family home can serve you better at this location. The rental rate depends on the size of the property. If it has a large area and multiple bedrooms, you can charge more on a per night basis.
Decorate and update your unit
People want to enjoy and relax in vacation rentals, so your unit must be well decorated and pleasing for the visitors. Having a rental unit at a good location is not enough, it should be attractive as well. If it's not in good shape, invest money and make it an attractive five options for the guests. It is very important for survival in this competitive market.
Décor and furnishings: There are some key features which attract guests for instance a well-stocked and clean kitchen. A comfortable bed, privacy in the house, and trendy décor are some other attractions in which everyone lives. You can hire a professional interior designer for this purpose, but you must understand the requirements of the guests for vacation homes. If you know what people want you can decorate the interior accordingly.

Amenities: There are some must-have amenities, which every guest wants. For instance, everyone wants a clean bathtub and a hot supply of water. Similarly, some guests want to bring their pets too, but most of the hosts don't allow them. So if you have a welcome pet policy, you can have more guests in your house. Other than that, guests want some basic amenities too, like a steady internet connection. A cozy sitting area and Proper storage space also, make your home attractive for guests.
Have fair rental rates
If you want to make money with vacation rental units you have to determine the night rates first. Setting dental fates is not as simple as it seems particularly if you are attached to any agency like Airbnb. Different factors make them more complicated than ever before. Analyze the different rental homes around you that are offering the same facilities. You can use them as a standard to determine yours. However, now a few different online tools are also available, which can calculate the rent based on the information you provide. Moreover, you have to calculate your expenses first and add the profit share in it to set the per night rate. Expenses can be the utility bills, services you offer, and taxes too.
You can make a good monthly income with vocational rental homes. But you have to plan for that wisely. Choose the right property at the right location. Make it attractive for the guests and provide all amenities which guests want. Try to customize things for them if possible. Make sure the per night rate is not very high, as various cheap options will be available in close vicinity.
If you'd like to talk more about property management, or you need help with Everest Property Management, please contact us at Everest Realty.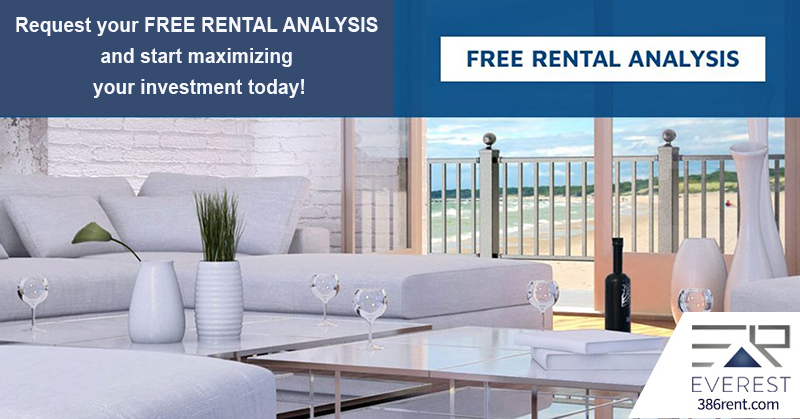 Property Management Service Areas