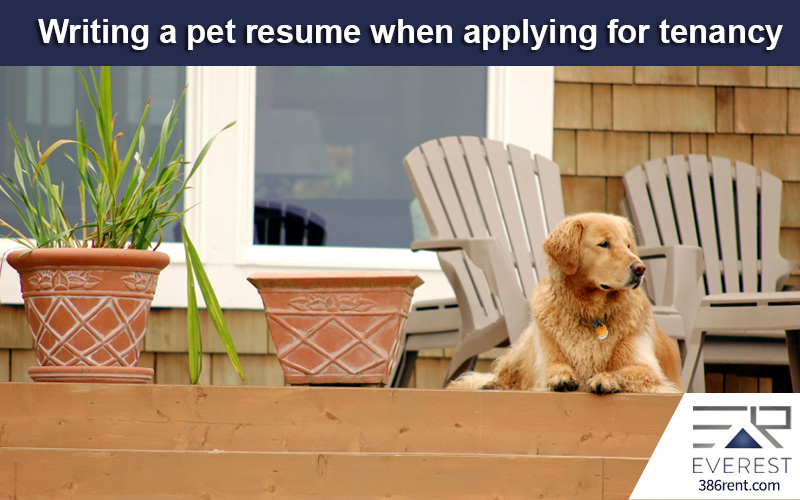 Even though majority of American households have pets these days, it can be a challenging task for a family to find a place on rent while having a pet. If you are on the lookout for a pet friendly rental property, it is a good idea to write a resume for your pet to let your prospective landlord know about his credentials. In a time when lots of properties are closed for pet owning families, a pet resume is a good idea to stand out from the rest of the applicants in front of your landlord.
Give basic details about the pet
Write a resume for your pet just like a resume you would write for yourself when applying for tenancy. It is your opportunity to let your prospective landlord know more about your pet. This resume should contain his name, breed, gender, age, height, weight, and his status on neuter or spay. Stick a photo of your pet to make it easier for the landlord to imagine about him. If your landlord has restrictions on breed and size of pets, do not forget to mention that your pet qualifies to be allowed entry inside his property. The photo also helps in projecting your pet as a happy and playful animal in front of your landlord. It is especially helpful in cases where applicants have a pet whose breed is considered aggressive.
Mention facts that project his personality
Use the resume to mention the achievements and other notable facts about your pet that can be easily verified by the landlord. Make sure that all the facts mentioned by you are true as your lie can be caught if your landlord asks for a proof in support of your claim. Include information about any special training or course that your pet has undergone. Also give details about any special activities that your pet indulges in. All landlords are worried about potential damage to their property and any of the inmates caused by pets. This is where projecting a playful image for your pet helps in getting permission from the landlord.
Attach references for your pet
Landlord tend to avoid pets on their properties as they do not want to get complaint calls about incessantly barking dogs or cats entering homes of neighbors. By attaching references from previous landlords and property managers, you can easily let your landlord know that your pet will make for an excellent tenant. These references remove worries form the mind of your landlord and he is sure that your pet will not cause any trouble for the property and other tenants. References from his trainer and the veterinarian also help in getting permission quickly form the landlord.
Talk about unique personality of your pet
Every pet is unique and different from other pets. This resume gives you opportunity to present him on a positive light in front of your landlord. You can write about the favorite activities of your pet in an informal manner. Do not forget to include some funny moments involving your pet to show that your pet is human friendly and playful with other human beings, especially small children. Remember that your aim is not only to prove that you are an ideal tenant, but your pet is also going to be an ideal tenant. Making your pet stand out from the rest of the animals certainly helps you in getting permission from your landlord. You know you have put your best foot forward by writing a separate resume for your pet that presents him in a positive light in front of your prospective landlord.
If you'd like to talk more about property management, or you need help with Everest Property Management, please contact us at Everest Realty.
Property Management Service Areas
Palm Coast Property Management
Flagler Beach Property Management
Ormond Beach Property Management
St. Augustine Property Management